Borgore, Bella Thorn Discuss Salad Dressing in New Video "Salad Dressing"
In Borgore's new critically acclaimed song" Salad Dressing. We won't lie, things get a little interesting. Borgore & Bella Thorn take you on a journey that makes you think a little too much about salad dressing.
As my boyfriend says, it's a no chill zone. And if you thought this song was about salad dressing, I think you need a little bit of assistance.
Borgore & Bella Thorn in "Salad Dressing" Official Video
I was talking to my best friend about it and obviously, this is typical Borgore. The collaboration with Borgore & Bella Thorn amplified it to its full potential! Bella Thorn was a Disney star well-known for Shake It Up. She's been in the news for speaking out and embracing her sexuality. This is what makes the Salad Dressing video more enjoyable.
Borgore is always collaborating with big names such as Miley Cyrus, G-Eazy, Getter, Nick Coletti,  and many other producers in the industry. But, this song puts it over the top. And if you think it doesn't get better, get your salad ready.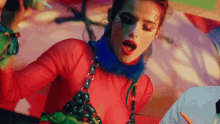 The video his pretty hard on making salad. Also, Borgore puts an interesting twist on the sexual innuendo. Especially, with Bella Thorn squirting salad dressing literally everywhere and shaking it like a shake weight. I'm not complaining.
The video is something you have to see yourself. If you're not a Borgore fan and you're not about it, then you're better off just watching or listening to something else. But, if you want to feel a little saucy, watch the video and tell us what you think!
Also, special thanks to Dahaq and Selene Garcia for contributing to the article.
But ultimately, the real question stands. That is, do you like the sauce in the salad or the sauce on the side. What are your thoughts?
Make sure to check out Borgore on his Blasphemy Tour visiting a city near you.
You can purchase tickets here.
Also, don't dare forget to check our BRAND NEW EDM & Music Festival Gear on our Merch page!